Svea Bank
A simple KYC-process in Sveas digital bank for entrepreneurs.
Svea Bank has launched a smooth KYC-process in their digital corporate bank through Roarings services. The goal was to simplify and improve everyday life for small business owners, so that their focus can be shifted towards core business and operations.
With a fully automated and digitized flow, companies can now become customers in just 10 minutes, using BankID. Roaring provides the flow with accurate company data, for a secure and smooth onboarding process.
"We saw a big hole to fill in the market, with a lack of simple and smooth customer onboarding processes. The feedback of our new flow has been very positive, where becoming a customer is being stated as "very easy", which was always the goal. Through Roarings services we've been able to automate the KYC-process, meaning fast and easy compliance in the new digital corporate bank. No more forms to fill or long periods of assessment and handling!"
- Victor Ramström, CEO Svea Bank
"Through our collaboration with Roaring, we've managed to create an onboarding process with great comfort in compliance ensurance, credit risk and -assessment. Automating the process has led to a better customer experience, less churn and reduced amounts of manual handling."
- Emilia Åker, Head of Operations at Corpia
Corpia
Corpia wants to make life easier for small business owners.
Getting a business loan when needed should be easy and smooth, which Corpia has taken note of. Through Roaring's API services, Corpia has created an application process with a high degree of automation, which only takes about 3 minutes to complete with BankID.
Among different sets of data, Corpia uses company engagements, signing combinations, PEP, sanctions lists and beneficial owners. A fantastic example of how flexible a digital onboarding can be!
Read more about Corpia.
DNB
One of the largest and most modern banks in the Nordic region.
DnB is a leader in car financing in Sweden and Norway. One of the most important parts is to offer car dealers seamless and effective tools for conducting business directly on site with the customer.
With DealerPad eSign, DnB has revolutionized the market. Now, DnB has further improved the service in collaboration with Roaring so that, among other things, the signing procedure and customer knowledge has become even better.
"In collaboration with Roaring we've further developed and improved the service in order for the signing procedure and customer knowledge to acquisition to become even better"
- iPeter Ahnell, DnB car financing
"Small business owners are especially close to our hearts, and we are delighted to work together with a like minded company like Roaring to develop modern, digital solutions that both facilitate and improve the growth opportunities for Sweden's small businesses"
- Martin Källum, Growth Manager at Visma Finance
VISMA Finance
With the help of companies such as Visma Finance, Sweden's small businesses can grow and prosper.
That is why we at Roaring are both happy and proud to present our collaboration!
Through flexible financial services fully integrated into Sweden's leading accounting program, Visma Finance can support small businesses in their everyday lives, enabling growth and financial security.
Convini
Convini is Swedens largest supplier of edible energy in the workplace with solutions in place in approx. 15 Swedish cities.
The concept of fast and easy access to good food has become widely popular. This places larger emphasis on customer onboarding optimization.
To be able to onboard customers as smoothly as possible, Convini has developed a simple and secure way of registering as a customer directly in your mobile phone. To be able to onboard customers as quickly as possible, Convini developed a simple and secure way of registering as a customer directly in your mobile phone. The application uses Roaring API to fetch the correct personal data for the new customer, which makes the registration process quick and simple. In addition, it provides Convini with correct customer data from day one.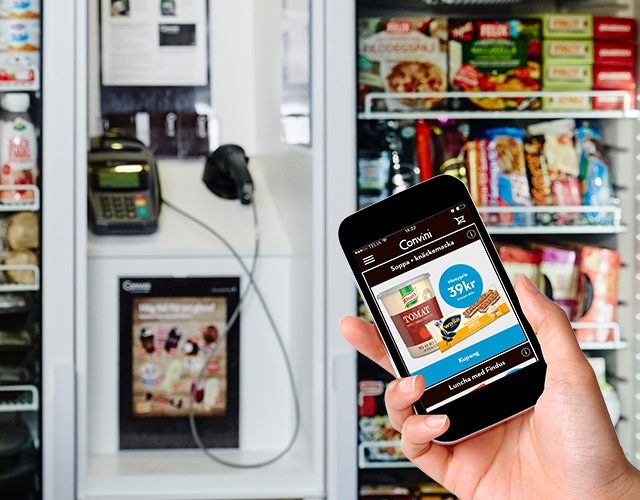 "Conversion and customer experience has improved greatly due to the quick and easy registration process for new customers."
- Nicklas Enqvist, Convini Sverige
"The new credit application was launched just before the summer and it has exceeded expectations! The customers enjoy the simplicity and ease of access, where Roaring's services are a key part of the puzzle of the online application"
- Merete Salmeling, Head of Digital and Innovation 
Landshypotek Bank
Landshypotek Bank is one of Sweden's ten largest banks, a bank for lending and saving. The bank defines itself as a bank for the entire country and for almost 200 years Landshypotek have financed farmers and forest owners on both the B2C and B2B side. While Landshypotek has a long history they are also a bank under rapid development.
With the help of Roaring services Landshypotek automates a crucial part of the customer on-boarding process. A digital application process for financing which simplifies the proces and saves a great deal of time for both customers and the organisation. The integrationen with Roaring also assures that the customers receive the correct help and service depending on their unique situation and needs.